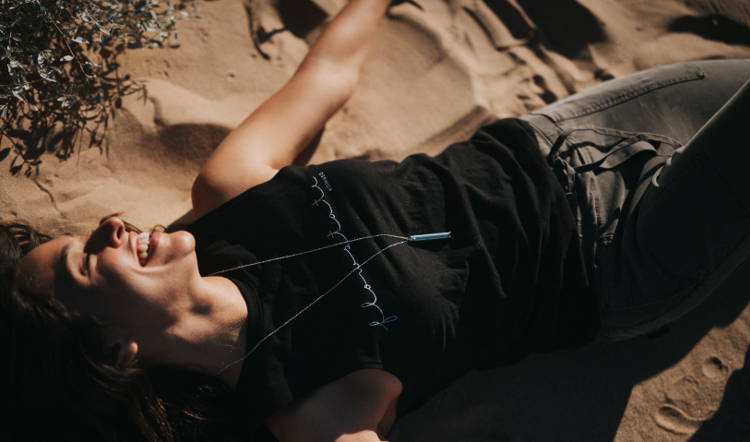 10 Anxiety-Reducing Success Stories
Worrying? Stressing? Feeling nervous? Overthinking? Ruminating? Feeling anxious?
We might call it something different, but anxiety is a normal part of our everyday lives. The Shift can help with all of it. And has for a bunch of people in the Komuso community.

Here are 10 testimonials about how the Shift has helped reduce anxiety.
A simple tool to calm your mind.

Verified | Heather Herbert
"I actually got this for my husband who gets anxiety attacks. I used to also but have since learned my stressors and do my best to avoid them. But when I would have panic attacks, I would start to hyperventilate and start to lose consciousness. I had to MAKE myself breathe in and out to regain control. I tried out the shift and I absolutely love the idea. I'm hoping that my husband likes it too. I adore the design, very fashion forward and sleek. I got the box chain and I really like how it looks."

Verified | Christine Chang

"I bought an Active Shift for my sister who has been going through a difficult emotional time before the pandemic. This device has literally been a heaven sent. 😍 She already has expressed to me the calming effect it has on her. She states it has helped her cut down her cravings to vape and keeps her even keel throughout the day. She loves the rose color and the sleek & discreet style of the instrument. Overall, I am thrilled that it has become an active part of her daily routine and has made her feel a positive difference. ✨️ Couldn't be more happier!"
The Shift utilizes a proven breathing technique anchored by science to help you recover from daily stresses.

Inhale deeply thru your nose to fill your belly with air. Bring awareness to your breath.

Exhale gently thru the Shift for 8-10 seconds to calm your nervous system.

Repeat 5 cycles or until calm to experience a calmer mood throughout your day.

Verified | Adrianna Cleaveland
"It's only been a few days since I have been using my Shift daily, and I can 100% say that it has been a game changer in my anxiety. I am able to bring myself back down from an attack in a fraction of the time it used to take me and it really helps to reset my mind. Highly recommend to everyone!"

"The active shift has quickly become a part of my daily wardrobe. What I love about it is IT keeps me accountable to focus on my breathing throughout the day. Not to mention it calms the nervous system in less than 1 minute."

The best addition to
your sleep routine.

Verified | Davide Aguirre
One Of The Best Purchases Ever!
"This product has literally helped me significantly. I know that I have anxiety. And this literally does what it says. There has been moments where I just out of nowhere have panic or anxiety attacks. This literally shut off my fight or flight. This is definitely a tool that can be used in real time to help anyone. I highly recommend the shift. Definitely a life-changer, and a game changer!"

Verified | David Massey-Brown
"I've dealt with anxiety for years — been on and off various meds. In just a couple of weeks, this little device has worked well for me. It serves as a reminder, a covenant, a present, tangible help. It serves to keep me grounded in the practice of relaxation breathing. Well made, attractive, and designed for just the right amount of back pressure for just the right exhale. I'd buy it again.."

Life Changing And Inspirational
"My Komuso Shift is the most awesome invention in the world to me my partner bought it for me for a birthday present this year help me so much in my daily life with my breathing practises and my meditation practises I have generalised anxiety and major depressive disorder and just helped me immensely to remain present and in the moment even though I am a very positive person it has just helped me that little bit extra with everything I do in my life and I have even bought it for my partner to help him as well I bought it for him for our 2 year anniversary which is coming up very soon I really really appreciate having this tool as a breathing practise and just a tool for my everyday life thank you to the makers that made this beautiful creation it is worth every penny and worth the wait I wish I had the courage to buy it's sooner I first found out about it through Facebook it is just the best thing in the world to me."

"I bought the classic shift for my teen daughter to help with her anxiety and to remind her to breathe. It is a tool that she can always have with her that helps her focus so she can get out of the house. I would recommend this be added to anyone's plan for reducing anxiety. It's not a cure-all, but it does help."
4 ways the Shift helps relieve anxiety fast.





Verified | Justin Van Thijn-Kelly
"I ordered these for my oldest daughter an I. We both battle anxiety everyday and we have found that even in the week we have had the shift that it has given us a productive way of dealing with our anxiety. I highly recommend them."

"My daughter has anxiety and was having trouble breathing when upset. She uses this and feels better! Thank you!"
Products to Calm Anxiety, Right Now